Case Study: Cornerstone Theater / Ford Foundation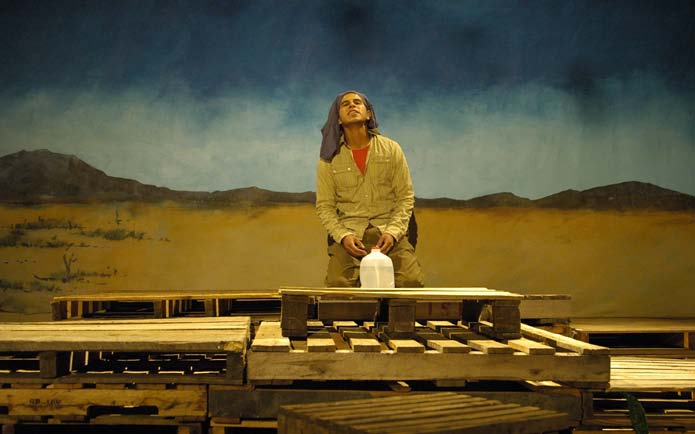 OVERVIEW
Project summary: Socially engaged theater company that involves L.A. residents and visitors as sources of dramatic material, actors, audiences, and participants in dialogue.
Narrative challenge: Making choices—the ones that characters make on stage, and the ones that the author and other artists make about what stories are, or are not, included in a given play.
Evaluation metrics: Number and demographics of people engaged, and qualitative feedback throughout the life of a project. The theater hosts reunions and other opportunities to glean the long-term impact, such as community projects that have sprung from its process.
Websites: CornerstoneTheater.org FordFoundation.org
It's 2007, and tensions are running high at the day laborers' site on the corner outside the GIANT Hardware outlet in Los Angeles. One of the workers who frequents the site, Lalo, has been accused of and arrested for assault and robbery of a woman he worked for. Though the accusation is false, the GIANT store closes down the day laborers' site, causing more hardship for the already struggling workers there. Matters get even more complicated with conflicts among the workers, guards, police, and activists on both sides.
These events are inspired by real life, but, strictly speaking, they're a fiction—part of a bilingual Spanish- English play Los Illegals, written by Cornerstone Theater artistic director Michael John Garcés. The drama unfolds in a Pasadena parking lot, with a temporary trailer and surrounded by a chain-link fence; the audience sits in folding chairs in the center of the action. Like much of Cornerstone's work, the play is site specific, and was developed in close collaboration with the people it portrays (partners included the National Day Laborer Organizing Network).
Community members are not just audiences but participants in Cornerstone plays, from start to finish. Diverse "story circles" from the very beginning of the writing process inform the play and generate material. "If you provide a good space and a context," says Garcés, "people are usually eager to talk about what's going on in their lives and communities." Cornerstone is also careful to include diverse perspectives in the story circles— such as pro-life and pro-choice activists for a play on reproduction.
"The stories we tell
ourselves are how we live
in the world. It's incorrect
to separate the stories
we tell from how we act
politically."
—Michael John Garcés
The company holds multiple readings of works in progress and invites community feedback. Much if not most of the cast of any given show is made up of community members, such as a homeless woman, a punkrock musician, and a store clerk in the play Attraction. "In auditions we set people up for success and to have a good time, rather than to be judged. That creates good faith in the communities," says Garcés. "We're committed to being at that table for the conversation and to not changing anything in the play that someone might disagree with."
The dialogue extends to performances of the plays, when the company holds audience discussions on the social issues they raise. "Our play development process is an audience development process," says Garcés. "There's no real secret to the process; it's just very grassroots. That's Cornerstone's ongoing practice—to go out into the community, and to have art be a meaningful part of people's lives."
If this sounds like theater that's good for you—an obligation more than a pleasure—it's not. "There's a false dichotomy between social and aesthetic impact," Garcés says. "I evaluate our work the same as I would a show at Lincoln Center—is it good, does it excite me, does it bore me?" While other groups can use Cornerstone's methods to move a policy agenda or increase literacy, says Garcés, "that's not what we do. What we do is make socially engaged theater that will create dialogue."
Ford Foundation arts program officer Roberta Uno, herself a former longtime theater director, focuses on "developing and sustaining vibrant arts spaces." Cornerstone is a former grantee, and the theater's space is "all of Los Angeles," Uno says, which means the stories it tells are fully integrated into the very landscape. That fact embodies a central principle for Uno: "Art is the change we seek." It can be unnerving for grantmakers to experiment with funding socially engaged art, especially if they don't have specific impact measures. "But," urges Uno, "we should also be investing in these artists for what they do—and that is the experiment."

Watch this short video profile of community actor
Renee Guntner, who had a role in Cornerstone's play
SEED, part of its cycle of plays on hunger and food.