Techmoja Dance and Theatre Company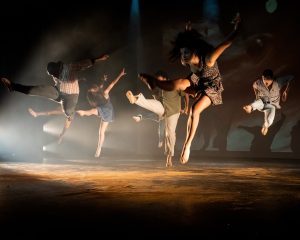 Techmoja Dance and Theatre Company is Narrative Arts' theater and dance division.
Techmoja enlivens communities by creating a deep sense of cultural understanding through the performing arts in coastal North Carolina. Techmoja believes that the arts can connect people across boundaries through collaboration and the telling of submerged stories.
Techmoja's vision is to create an indigenous body of theater and modern dance rooted in the traditions and reflective of the lives of Southeastern North Carolina's people. We strive for artistic excellence and a vital relationship with our audience. Regionally we serve as a resource to those who want to discover, affirm, and present their community's story on the stage and create intercultural work exploring race, place, class and culture.
Techmoja was founded in 2008, by Kevin Lee-Y Green and mother, Donna Joyner Green, an arts administrator and culture bearer. Learn more about Techmoja and their work in the coastal region and beyond.