"Storytelling and Social Change" guide!
Sign Up for Free Download of Guide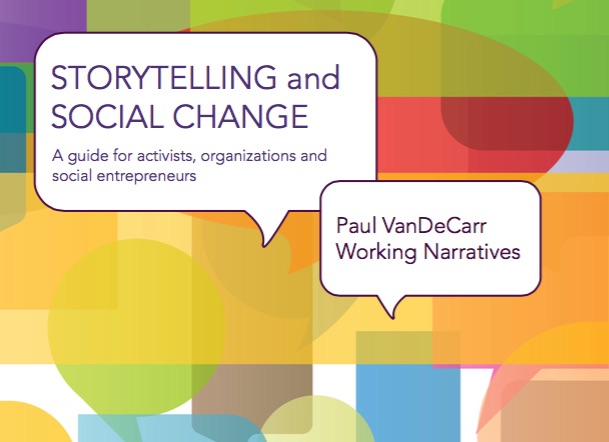 The second edition of "Storytelling and Social Change" is available in two different formats.
ONLINE version has complete links to videos, articles and stories mentioned in the guide. Share the whole guide or individual chapters by email and social media.
PDF version is available by signing up using the form above. Also fully linked, and in one easy-to-read document. Once you sign up, you can also download a PDF of the first edition of the guide, which was for grantmakers.
The second edition of the guide covers how to develop a strategy to guide your work, how to tell great stories in any format and engage audiences, some methods used in telling stories for social change, and the structure you need to incorporate stories into your everyday work.
Lastly, the guide features an afterword by Deepak Bhargava, the executive director of the Center for Community Change.
THANK YOU
Special thanks to the Skees Family Foundation for their belief in this project and for being the first grantmaker to support it.
Big thanks also to the Open Society Foundations, the Evelyn and Walter Haas, Jr. Fund, and the William and Flora Hewlett Foundation for their support of this guide.
Boundless appreciation to the Nathan Cummings Foundation, and especially Maurine Knighton and Brandi Stewart, for being an outstanding partner with Narrative Arts since the beginning.
Thanks to individual donors, including Alexandra Christy, Peter Dowson, Elizabeth Hakas, Jonathan Kauffman, Andy Veluswami, and anonymous donors.
Thanks for editorial support to consulting editor Ross Mudrick, and copy editor Case Edwards.
Many thanks to The Chronicle of Philanthropy, where some of the material in this guide was first published.
THE FIRST EDITION
The first edition of the guide, published in 2013 and aimed at grantmakers, was based on over 75 interviews with funders, communications experts and storytellers of all sorts. It looked at the recent history of storytelling and social change; reviewed the theories of change behind this work; provided case studies of 10 projects and their funders; offered guidance on every stage of grantmaking; included sidebar interviews and other features; and listed resources for additional exploration. The guide also featured a foreword by playwright and actress Anna Deavere Smith, and an afterword from philanthropy expert Gara LaMarche. It was supported in part by funding from the Brimstone Grant as administered by the National Storytelling Network.
The first edition can be downloaded, along with the new edition, by signing up via the form at the top of this page.
Story Guide Headlines
March 20, 2020
November 16, 2016
November 9, 2016
Story Guide Project Map
A map of projects profiled in case studies in "Storytelling and Social Change."