Blog
Bold stories for big change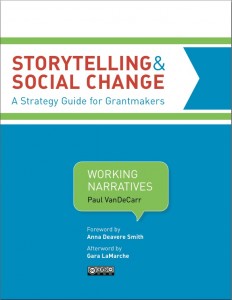 Below is a blog post originally published here on "Smart Assets," the Philanthropy New York blog. Thanks to PNY for permission to re-post.
Conscription of child soldiers. Mass incarceration. Environmental degradation. How can storytelling possibly help grantmakers confront such huge challenges?
That's the question that a group of about 60 Philanthropy New York members tackled last month at "Changing the Narrative: Using Storytelling to Expand Your Foundation's Impact." The event was based on Narrative Arts' publication, "Storytelling and Social Change: A Strategy Guide for Grantmakers."
Storytelling helps us imagine a better society to work towards, said Maurine Knighton of the Nathan Cummings Foundation, and thus changes the zeitgeist on the many issues that social justice advocates are working on. Change happens on the small, personal and intimate level, as well as on the grander level of mass communications.
First-person stories put audiences in storytellers' shoes in a way that facts and figures don't, according to Brett Davidson of the Open Society Foundations' Health Media Initiative. That initiative has grantees — such as sex workers in South Africa — get trained in how to tell their stories as part of a larger advocacy strategy. (Also be sure to check out the OSF-funded role-playing game "Cops and Rubbers," which has a similar effect.) Grassroots storytelling not only affects listeners, but also builds leadership among the tellers, as discussed by Causten Wollerman of the National Gay and Lesbian Task Force; volunteers in the anti-Prop. 8 campaign deepened their own stake in the issue by sharing their personal stories rather than reciting campaign talking points.
To do this kind of storytelling on a mass scale, advocates need infrastructure. Alan Jenkins of the Opportunity Agenda spoke of his organization's trainings (based on its excellent new communications toolkit) and research on effective messaging. He also recommended that social justice advocates address the disconnect between what they say and what their audiences receive. Yvette Alberdingk Thijm of WITNESS told how her organization successfully advocated for YouTube to adopt a face-blurring tool to protect the people in human rights videos — an example of an infrastructure support that helps the whole field.
Attendees raised tough questions both at the discussion and on feedback forms. What do you do when the other side has a bigger and more dominant story — or just more money to propagate it? How do you frame big social issues where change takes years to achieve? How can you tell good stories about data-driven policy reports, so as to increase their impact?
We're going to have a handful of storytellers, communications experts, advocates and funders weigh in on each of these and other great questions here on the Narrative Arts blog starting in early 2014. Stay tuned!