Blog
Evaluating the impact of storytelling

It is difficult, even impossible, for organizations to conclusively answer broad questions about their impact, such as "How has the zeitgeist on criminal justice changed because of your film?" Instead, organizations might identify more specifically where impact can be observed.
Animating Democracy—a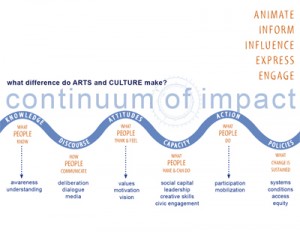 program of Americans for the Arts that fosters civic engagement through arts and culture—has created a framework for understanding the "Social Impact Indicators" of the arts. These indicators are part of a larger set of Animating Democracy resources on the impact of the arts.
Following are the categories of indicators, with examples of projects profiled in the first edition of the Narrative Arts guide on "Storytelling and Social Change."
Depending on the type of impact, the mechanisms of evaluation may include surveys, focus groups, comments on social media, voting patterns, web traffic data, fundraising data, or reviews of policy changes.