Blog
Weekly roundup: Events in NYC this week, and more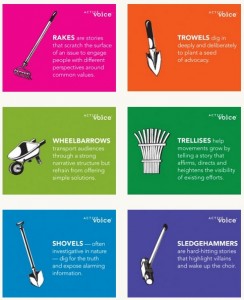 THURSDAY EVE IN NYC — ASSESSING IMPACT IN SOCIAL-CHANGE STORYTELLING: When it comes to creativity, what can or should be measured? What questions are emerging, and what methods are appropriate? An all-star lineup talks about "measuring creativity" this Thursday, June 4th, 6:30-8:30pm at the Centre for Social Innovation in New York City! The event i moderated by Ellen Schneider, director of the Active Voice Lab and creator of the "How do we know if we're making a difference?" framework (see graphic at right). Panelists include Dan Cogan of Impact Partners, Paula Froehle of Chicago Media Project, Kristi Jacobson of Catalyst Films, and Lisa Yancey, a super-smart thinker on arts-for-change and a friend of Narrative Arts. Get your tickets here!
NEW STORYTELLING GUIDANCE FROM "HATCH": The Rockefeller Foundation's stories-for-change portal "Hatch" has some great new content! Check out Jay Geneske's piece on why we shouldn't confuse a mission statement with a story. And here is Marjan Safinia's provocative question about how you present your organization: Would you sit next to yourself at a dinner party?
COMING THURS-SAT IN NYC — LEGISLATIVE THEATRE FESTIVAL: The annual Legislative Theatre Festival happens in NYC this Thursday through Saturday, June 4-6! The festival is organized by the always brilliant and fun Theatre of the Oppressed NYC. This is truly exciting stuff — and audiences get to take part! Watch original plays based on community actors' experiences of discrimination based on past arrest or conviction. Act onstage to offer alternative responses to these problems. Share policy ideas with representatives from local and federal government. Vote for them to carry these ideas forward to their respective chambers.