Blog
Weekly roundup: Storyscapes, StoryCorps, and more!
SCIENCE AND STORIES: Media Impact Funders hosted funders and media-makers in NYC earlier this month for Maladies and Miracles: Funding Media to Illuminate Health and Science, a day-long series of panels on health-related media coverage and storytelling projects. Read the event recap, and watch video of the conversation between filmmaker Ken Burns and "On the Media" co-host Brooke Gladstone. (Burns is producing a new film on "Cancer: The Emperor of All Maladies.")
FREE TICKETS TO TRIBECA "STORYSCAPES" THIS WEEKEND: The Tribeca Film Festival is now running, and is hosting its annual "Storyscapes" exhibit of innovative storytelling forms, which often include "immersive documentary," virtual reality and more. Tickets are free, and the exhibit runs Thursday through Sunday this week.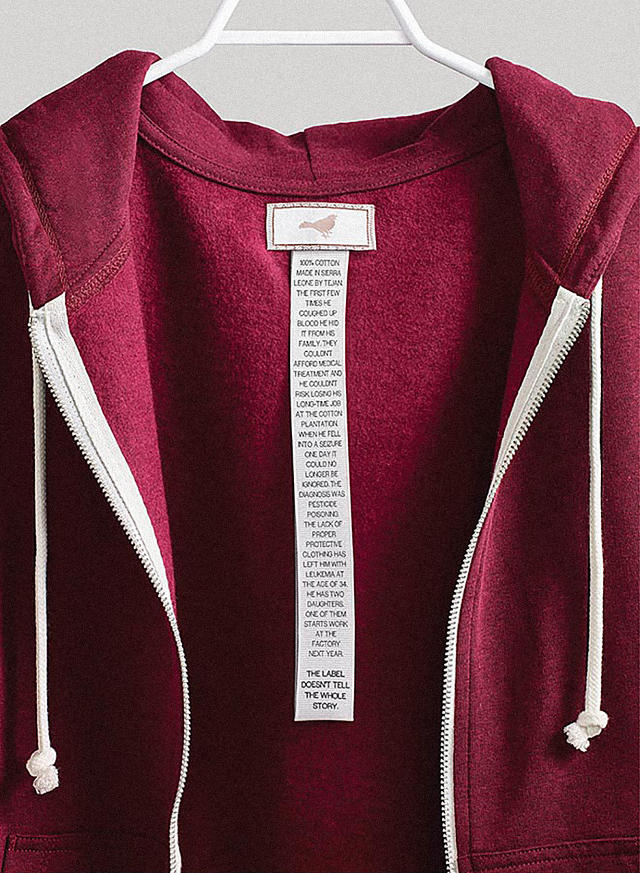 CLOTHING TAGS TELL THE ORIGIN OF YOUR SHIRTS: An article in Co.Exist covers a series of print ads by the Canadian Fair Trade Network, in which clothing tags tell who really made what you're wearing — kids in sweatshops. For example: "100% Cotton. Made in Bangladesh by Joya. Who left school at the age of twelve to help support her two brothers and newly-widowed mother. Her father was killed when a fire ripped through the cotton factory where he worked. Now she works in the building across the street from the burned down factory. A constant reminder of the risk she takes every day. The label doesn't tell the whole story." Thanks to Bruce Trachtenberg of "frank" for the tip!
CHRONICLE OF PHILANTHROPY ON STORYCORPS: My latest article in the Chronicle of Philanthropy, "The Other Side of Storytelling — Listening," looks at StoryCorps' new phone app. In the article, StoryCorps founder and executive director Dave Isay says, ""So much of media today is sucking the life out of people. In nonprofits, we should be doing the opposite."