Blog
Storytelling partnerships — Active Voice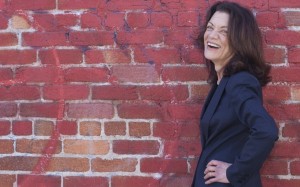 Today on the blog, a guest post from Ellen Schneider, the founder of Active Voice, and now director of the Active Voice Lab for Story & Strategy (AV Lab). The organizing principles she discusses here can be applied to other efforts: reaching "beyond the choir" — that is, preaching to more than just the converted — can be done by building partnerships with a network of stakeholders from the very beginning of a film or other story project.
Stories can engage new audiences with humor, complex characters and most importantly, common values. Several years ago Active Voice wanted a story about immigration in small American towns that would connect with people "Just Beyond the Choir" (see graphic)—in other words, not the true believers (they were already in), not the polar opposites (we weren't going to be able to sway them), but the people in between. We'd seen enough "advocacy" film; this time we needed a narrative that let diverse audiences walk in each other's shoes.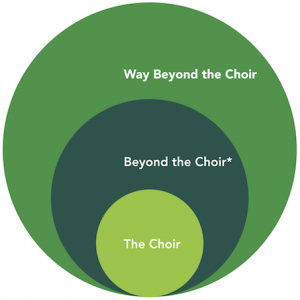 First we assembled an intimate "ecosystem" of a few funders, grassroots organizers, policy-watchers, faith leaders and others who had their fingers on the pulse of immigrant integration. Then we found a filmmaker, Kim A. Snyder, who was willing to work with us on the project as long as she had 100% creative control. By building a community around the documentary production process—and having guidelines so that every player made specific contributions, whether it be insight, money, policy options, introductions to an informal "welcoming committee" in the town of Shelbyville, Tennessee, and most precious of all, a director's eye—a dynamic network kicked in. Kim had access to cutting-edge information about how real people were grappling with demographic change; and the "ecosystem" leaders were able to plan how to integrate the film into their long-range activities on the ground.
It wasn't always easy, but Welcome to Shelbyville, an intimate story that lets many characters speak for themselves, is still helping people face uncomfortable issues and work toward solutions in small town libraries and congregations, big city YMCAs, and Welcoming America affiliates around the country.