Blog
Building Community in Washington State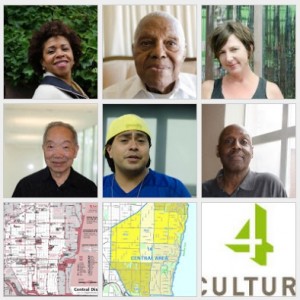 A guest post by Madeline Crowley, creator of the "People of the Central Area" blog
The People of the Central Area blog is an oral history project about an area near downtown Seattle.
For millennia it has been—and remains—home to Native Americans, and later immigrants from Europe, Japan, China and the Philippines, and later to African-Americans from the South. These newcomers lived among Scandinavian settlers and a large Jewish community in a thriving, largely cooperative community. By the 1940s the area was among the most racially diverse in the nation.
From these houses came such prominent figures as Bruce Lee, Ray Charles, Quincy Jones, Jimi Hendrix, Sir Mix-A-Lot and many other jazz, R&B and hip-hop Musicians; as well as activists from the Civil Rights movement, organized labor, and more radical groups such as the Black Panther Party.
The neighborhood is a repository of forgotten stories. In one example Seattle's then Mayor stopped the Feds from raiding the Black Panther headquarters, because he recognized the personal qualities of the Panther leaders and their relationships with people of all races in the neighborhood.
The People of the Central Area blog documents stories of people who've lived, loved, worked and collided here.
Even today, synagogues, churches and mosques coexist here, as do wealth and poverty, artists and families, high-tech engineers and reputed gangsters.
The project began after the shooting of an innocent bystander, a father driving his young children through a busy intersection. In the aftermath of that shooting, it became clear at community meetings that many people didn't know the history of the neighborhood, much less each other, and hence didn't understand others' perspectives in this racially and economically diverse area.
Sharing stories of the neighborhood's rich history is a way of understanding what brings us together and what has divided us. The blog's audience is anyone who's interested in seeing how a minority-majority community worked creatively for positive change. The Central Area serves as an example of how such a community can be the foundation for a strong nation.
For me personally, as creator of the blog, the neighborhood is now populated by other people's memories. With every interview, my relationship to the neighborhood changes. It has had a profound effect on my ideas of ethnicity, race, privilege and community. The stories people shared on the blog have changed my life.