Blog
Resiliency Media Fellowship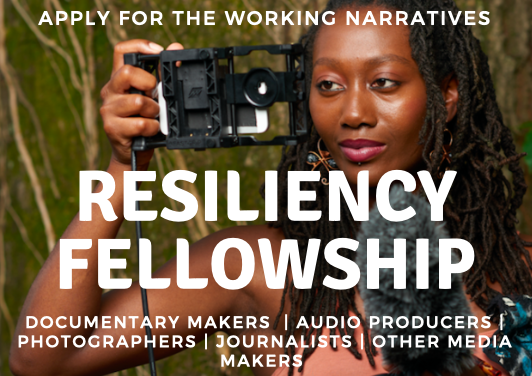 Hurricane Florence will have lasting environmental and social impacts. We can address them through community-based journalism. The Resiliency Media Fellowship will host a diverse cohort of media makers telling the stories of the region.
Apply to become one of our resiliency media fellows. Deadline is February 10th, 2019.
RESILIENCY MEDIA FELLOW
The fellowship is focused on media training and community engagement where participants of all skill levels. Participants work together to produce stories about the environmental, racial, political and cultural impacts of Hurricane Florence on people of color communities and low-income white communities.
WHY SHOULD I APPLY TO BE A FELLOW?
The fellowship is a unique opportunity to develop one's storytelling skills. Fellows will leave with a better understanding of how media art forms can be used to imagine and advocate for a better, more sustainable future. The Resiliency Media Fellowship program provides training for community members and citizen journalists with a dedication to telling community stories. Those interested in writing, photojournalism, documentary making, radio producing and other kinds of media making are welcome to apply.
Media fellows will receive in-person trainings, webinars, peer coaching, and support from media and research centers in North Carolina and beyond. Fellows will have access to a limited funding pool to advance the production of locally focused projects.
TIME COMMITMENT
This is our inaugural year of the fellowship so we will be learning with you as the program goes along. Our plan is to work with the cohort to hold five 2-3 hour skill-building workshops and two field trips where we visit communities impacted by Florence. This work will take place between late February and May of 2019 with additional time for fellows to complete their projects using our media lab.
If you'd like to apply click the link to fill out a brief application form.
We are committed to diversity and building an inclusive project for people of all backgrounds. Everyone is encouraged to apply, particularly women, people of color, members of the LGBTQIA community and people with disabilities.
Narrative Arts believes in the power of communities telling their own stories in their own ways to create powerful, robust, and democratic communities. Narrative Arts is an arts and social justice organization based in Wilmington, North Carolina.