Blog
News Voices: North Carolina Connects with Journalists, Activists and Others in Wilmington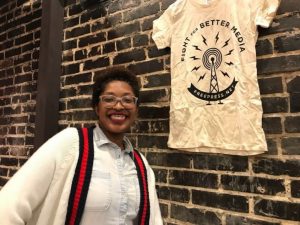 by News Voices: North Carolina
News Voices: North Carolina is spreading our roots to the eastern part of the state.
We recently teamed up with allies at Narrative Arts to host a meetup in Wilmington, where more than 30 people came together to talk about local news. It was a fun night and a chance to build relationships with folks in the Port City as we build toward an even bigger joint effort this spring.
In March 2018, Narrative Arts will host Free Movement, a conference on social justice in the South. Free Press is co-curating a track on media justice and journalism.
Other tracks include harm reduction and drug-policy reform, closing the school-to-prison pipeline, health justice and equity, environmental justice, arts activism, and narrative strategies for Southern organizing. (If you work on media justice issues in the South — or any of the other issues — please consider submitting a proposal. Overlap between tracks is strongly encouraged.)
Nick Szuberla, Rend Smith and Martha Foye have been building community in Wilmington since Narrative Arts was founded in 2013. Black Man Running, a weekly running group, is building connections across race on issues of racial justice and health equity. Free Movement emerged out of that community.
Even before News Voices: North Carolina launched in the spring of 2017, Free Press attended Free Movement's 5K race and social justice gathering, where we facilitated a discussion with more than a dozen people about the local media landscape in the Port City, and the stories people want to see.
Our most recent gathering drew some of those original participants, including a columnist for the local alt-weekly, Encore, organizers with local Black liberation groups, activists with Cape Fear Equality, and the Progressive Coalition. We also drew new folks, including journalist Elizabeth Montgomery and Lori Wilson of the new women-and-femme-led literary group, Athenian Press and Workshop.
We held our event at The Foxes Boxes, a family-owned cafe that hosts many social justice events. Jackson Fox is a longtime Free Press member and a strong supporter of Net Neutrality. (Jackson's also a YouTuber — check out this videohe recently posted on the issue.)
We heard familiar themes: People are frustrated by the lack of substantive local news on issues that matter to them. News media's emphasis on national politics only deepens the political divide in places like Wilmington, a city known for film production, higher education and a laid-back coastal culture, surrounded by socially conservative rural communities on all sides.
People we spoke with say they're frustrated by the lack of representation of African Americans and other people of color in local media and local newsrooms; people of color make up approximately 23 percent of the Port City's 117,000 residents. They're troubled by the glut of sensational crime coverage, especially on local TV news.
Those who are engaged in local issues want coverage that gives them the information they need to take effective action before local leaders make decisions — but they say local news media typically offer only brief, after-the-fact reports, if they report on local issues at all. More and more, these folks turn to social media and advocacy organizations for timely information aimed at informing civic engagement.
We asked our guests three questions and invited them to post their responses. Here's a sampling of what they shared with us.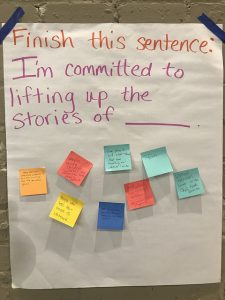 "Finish this sentence: I'm committed to lifting up the stories of ____."
"People who feel their voice is unheard"
"Refugees"
"LGBTQIA seniors living in the Cape Fear region"
"Those that have overcome obstacles and are working for the greater good"
"Transgender and nonbinary persons living in our city"
"Stay-home moms who are educated and want their children to have a head start"
"What stories need to be told about your community?"
"How history does or does not influence local and state public policy decisions"
"Housing prices"
"Jobs that pay in line with the cost of living"
"How has stigma (in its many forms) affected you?"
"Churches that are involved with social justice"
"What do you wish people in Wilmington knew about Wilmington?":
"That it is rich in Black history"
"Only through consistent, thoughtful engagement can we maintain the Wilmington we know and love — and hope to make it better!"
These ideas are the beginning of a dialogue News Voices: North Carolina is excited to have with the people of Wilmington. We know the most meaningful conversations arise out of community-minded relationships, and having a local partner like Narrative Arts helps us build those relationships.
Narrative Arts Program Manager Martha Foye (pictured in top photo) has deep roots in Wilmington going back generations. She hopes the Free Movement conference will strengthen not only her city, but the entire South region.
"Free Movement is a place where people who are organizing in the South can talk about strategies to combat the issues that plague the South, a place to bridge conversations about caring for one another's basic needs and the policy decisions that affect our ability to survive and thrive. We're connected to people who believe in the solidarity of the South."
Free Movement will take place March 23–25, 2018. The deadline to submit session proposals is Dec. 21, 2017.
We're also building our News Voices network in Wilmington for the long haul, so if you live in or know folks in the Cape Fear region, please connect by emailing newsvoices@freepress.net or signing up at NewsVoices.org.
Check out a few more photos from our event: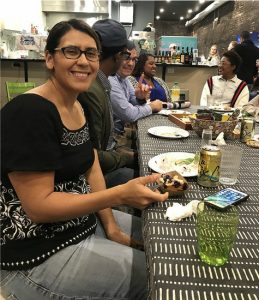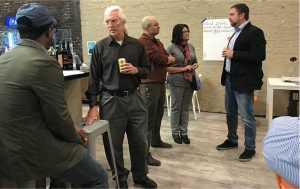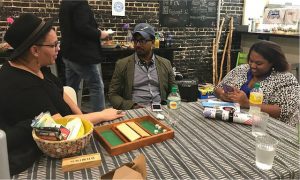 Original photos by Fiona Morgan