Blog
Every Child NC and Narrative Arts Present All Together, a documentary series
Narrative Arts and Every Child North Carolina have produced the All Together documentary series focused on education equity.  The series will be streamed online, is free and will include a Q&A after each screening.
Every Child NC's has been leading a multiyear campaign for education equity in North Carolina.  They have created a strong statewide coalition that they want to support and grow.  Part of the goal of the All Together documentary series is to keep their coalition members involved and find new supporters.   The series goal is to engage participants in an active dialogue, while keeping their community mobilized.
Over the past five months Narrative Arts' Land and People producers have traveled the state interviewing students, faith leaders, educators and advocates as part of creating All Together. 
Working with Every Child North Carolina coalition members we developed the concept for the four films, identified folks to interview and created a community engagement strategy.
Filmed in six counties across the state, the goal of the series is to uplift the work of education advocates and build public support for funding the Leandro Plan.  The series which broadcasts every Monday from August 8-29th provides viewers with an inside look into the fight for Leandro and education equity in North Carolina.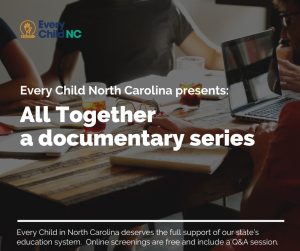 How you can get involved:
The Untold Story of the North Carolina Constitution
Monday, August 8, 2022 at 7:00 PM  | RSVP for Free Tickets
In 1868, a multiracial coalition of North Carolina legislators wrote into our state's constitution that all citizens have the right to an education – a radical notion at its time.The story of the coalition is largely untold. North Carolina is the only state which outlines public education as a right for all citizens in its constitution. We have never as a state delivered on the promise those representatives made in the constitution. But, the value that all citizens have a right to an education is ours, North Carolinians. And it is ours because of that brave moment in history.
Resolution: Hoke County Speaks Out
Monday, August 15, 2022 at 7:00 PM | RSVP for Free Tickets
Hoke County Schools were one of the five original school districts to file Leandro in 1994. Now, three decades later, Hoke High educator Jackie McLean and other leaders are organizing her county to pass the Leandro resolution. The resolution pressures state lawmakers to release Leandro funds owed to Hoke County Schools and so many more across the state.
Faith Communities and the Fight for Education Equity in NC
Monday, August 22nd, 2022 at 7:00 PM | RVSP for Free Tickets
What can North Carolina faith leaders tell us about education equity? What does faith call us to do in the fight for education rights for everyone?  In this short documentary we travel across the state to discuss with faith leaders how education equity is part of our collective justice. We explore how faith impacts both the messages we hear and how we understand them as North Carolina communities work to build an inclusive state.
What's Possible: Winston Salem Localizes Leandro
Monday, August 29th at 7:00 PM | RSVP for Free Tickets
In Winston Salem, community members are leveraging the Leandro case to build grassroots power. Kellie Easton and fellow advocates successfully convinced the Winston Winston Forsyth school system to invest in a mentor program. The program is changing the way student groups made most vulnerable are interacting with the Winston-Forsyth School System. This short documentary models how North Carolina education advocates can use Leandro to develop more equitable local school budgets.
The entire series is available for community screenings.  Fill out the registration form to host a house party.
If you are interested in working with Narrative Arts in creating a documentary series for your campaign or advocacy work contact us at info@narrativearts.org or use this form.